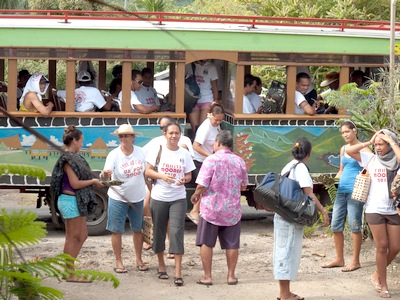 MAVE MAI… MAVE MAI…
KAOHA NUI I TEIE NEI 'Â!…
E mea na roto i teie pii, te farii-raa hia te mau taure'are'a e te mau hoa no Ua Pou mai.
I te matahiti 2007, na Ua Pou i farii mai i ni'a i te tua o to ratou fenua e i teie mahana, teie mai nei i Moorea nei.
Aue te oaoa e te poupou! Aue te mahanahana te farereiraa:ua fariihia, ua haka mai, ua himene mai!
Mauruuru maita'i i to tatou rotahi-raa i ni'a i te parau o te Hiro'a tumu!
( Voir les photos )