A poem for Hepa
19/07/2011
Haruru otu'i mai nei te reo tavevovevo e:
Résonne lourdement un echo :
A thunderid voice echoes heavily
Ua mate… Ua mate… Ua mate…
Il nous a quitté, quitté, quitté…
He's gone, gone, gone….
Ua mate teie Tamaiti !
Ua mate teie Mootua!
Ua mate teie Hoa iti !
Ua mate teie 'Aito iti  no te 'Âti Te Arawa!
Ua mate teie Iho  no te Marae Houmaitawhiti!
Il est mort cet enfant !
Il nous a quitté ce petit fils !
Il s'en est allé cet ami cher !
Il est parti ce tendre guerrier du clan Te Arawa !
Il s'est éteint ce souffle du marae Houmaitawhiti !
He is dead, this kid !
He left, this grandson!
He is gone, this dear friend!
He went, this tender warrior from Te Arawa!
It blew, this breath from Marae Houmaitawhiti!
E taure'are'a i roto i tona re'are'a raa!
Era ho'i te  tareni e vai noa mai ra
Ahee…  Ua mate!… Ahee…
Atira ia!
Ua reva i te haereraa roa!
Adolescent dans sa jeunesse
Avec un futur prometteur
Hélas… Il est parti… Hélas…
C'est ainsi !
Il est parti pour le grand voyage !
Teenager in his youth,
With a laid path
Alas… He left.,. Alas…
So it is!
He went for the great travel
Ua tano te parau e:
Rahu iho ra te Atua i te taata
Puhi iho ra te aho ora  ei meho'i nona
E inaha!
Ua ho'i te meho'i i te Atua ra !
E… 'Oia!
Il est bien dit,
Dieu crée l'homme,
En lui insufflant une vie qui lui reviendra
Voila !
Le souffle divin s'en est retourné !
Qu'il en soit ainsi !
True is the saying
God creates man
Infusing a life that will come back to him
Indeed!
The divine breath got back!
So be it!
E teie tamaiti o ta matou i here
A haere ra, a haere ra !
Na te Atua hau e hii ia oe i tona na maru pererau
Nana ato'a e tamarû i te mamae o to metua vahine
Enfant que nous aimions
Va ! Va donc !
C'est le Dieu de paix qui te recouvre de ses ailes
C'est lui aussi qui apaisera la douleur de ta mère
Beloved child
Go then, go !
It is  God that  peacefully  covers you with his wings
Him also whom will soothe your mother's sorrow
O oia ho'i i hii ia oe, i tavai , i ho'iho'i , i aupuru ia oe!
Na reira ato'a to metua tane,
Ia  turu te Fatu ia na  i roto i teie mata'i rorofa'i!
C'est elle aussi qui t'as langé, protégé et caliné tendrement
Ainsi que ton père
Que le seigneur le soutienne dans cet ouragan
She is the one that swaddled you, protected and hugged you tenderly
Your father too
May god sustain him in midst of this hurricane
Are'a ia oe e  te metua  tupuna,
A farii mai i te tapa'o o to matou  aroha e te here
Aroha i to 'oe 'opu fetii
Aroha i te mau hoa ato'a….
Et toi l'aïeul
Reçois les témoignages de notre amour
Amour pour ton clan familial
Compassion pour tous les amisl
And you the elder,
Receive the testimonies of our love
Love for your clan,
Feelings for all the friends
E Hepa iti, haere ra, haere ra, haere ra…
Tei te Atua Hau oe i teie nei!
Cher Hepa, va, va donc, va…
Tu es maintenant avec Dieu, en paix !
Dear Hepa
Go, go then, move on
You are now in peace,  with God!
You May Also Like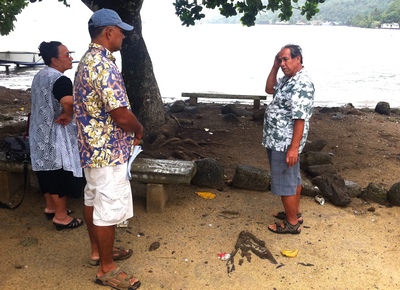 21/05/2011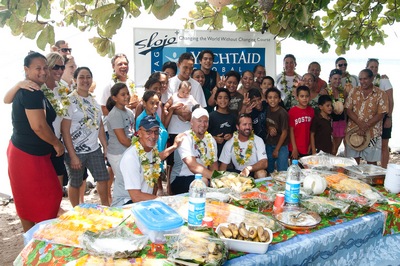 30/01/2011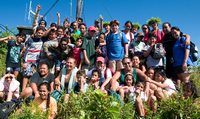 03/08/2008