Pererau
03/06/2009
The role of "read review" is most important and usually among the least prepared. The Service Writer Seminar helps a new or a seasoned Writer to retake E mou'a tei ni'a Rotui
Are you tired of boring college routine? Want an Creative Writing Template that makes a difference? Our experts will look out for you in case of academic need. Tia'i hia e na maehaa Te'ava e o Te'avau
Write College Essay For Moneys online from trusted custom writing service. BuyEssayClub is a perfect place to purchase custom papers and make your academic life easier. E inaha, haruru 'otu'i iho nei te Pahu i Pererau
Muhu iho nei te fenua…
E tara i ni'a Rohotu
E tara i raro Rohotu
E tara afa'i roo
Mou'a noho hia e te Vahine Varua o Teremu'ura
O Rohotu te marae
Na Hatara te marae
O Na'ona'o te marae
O Tevairoa te marae
O Pererau te marae
O Atita'hae te marae
O Nuurua te marae
E mau marae afa'i roo no 'oe Piha'ena
Maeva e te Pou Nui Fana'ona'o
Oia te Tavana o Aimeho Nui
Tei firi 'aru'aru maita'i i teie 'ohipa ta tatou
Maeva e te mau 'omo'i tuitui
No roto mai ia 'oe e Paopao
Mai Ti'a'ia e e moti i Vaipahu
O outou ho'i te 'omo'i tuitui turamarama
I teie mata'einaa iti no Paopao
Arata'i hia e to tatou tavana tuhaa
Maeva e te mau hoa
Maeva e teie Numaha tamarii
Teie mau maimoamoa
No 'oe o Ananahi
Tei hea ra ananahi?
Ananahi uri pa'o?
Ananahi huri è hia e te ta'i punu o te moni?
E 'aore ra e Ananahi teatea!
Teatea te feruriraa
Teatea te oraraa
O ta tatou ia e tautoo nei!
Teie to tatou mau mono
Tei ratou te hiti-raa mahana
Tei tatou te tape-raa mahana
E te topa-raa mahana
E te mau hoa,
Ei faahope -raa i teie mana'o
Te na'o ra to tatou metua i mo'e a'e nei o papa Matarau e:
Rûrû taina iho to'u tino
Motu'utu'u atu ra te taura e nati nei ia'u i te mau tupuna
I te na'o raa e:
Manava tatou i te farerei-raa i teie mahana!
Manava e Ia ora!
Vauvau-raa parau na Rotui vahine
Peretiteni o te Puna Reo Piha'e'ina
I te 29 no me 2009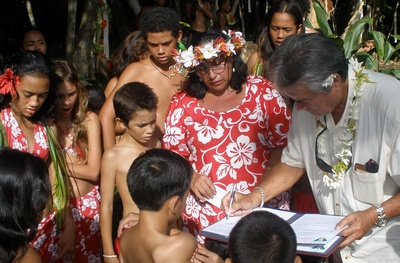 Vous aimerez aussi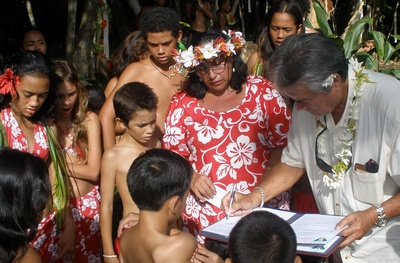 29/05/2009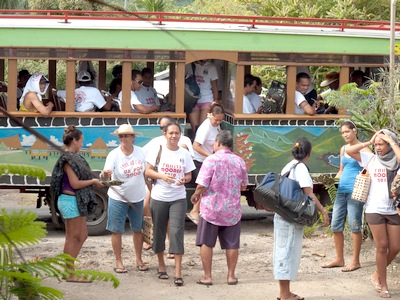 16/02/2010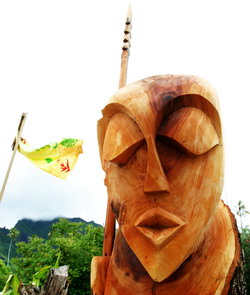 25/09/2007